ZipZapZop.com 060305: Vipassana Meditation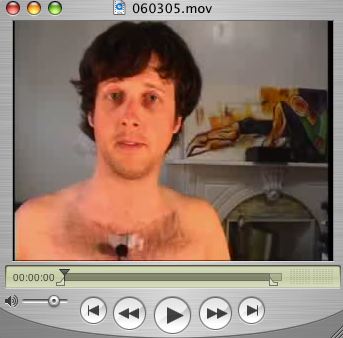 watch this episode
ZipZapZop Daily: Tips, News and Entertainment for the Brave New World.
Hosted by Clark Saturn, recorded (mostly) live in New York City.

ZipZapZop 060305 Topics:
(TRT: 5:16)
A Naked Friday Story!
PRE/INTRO: 1990: Dharma Bums, 1991: The Floor of Happiness (MP3, lyrics),
1995: Surfing the Himalayas, Snowboarding to Nirvana. Intro to meditation via snowboarding.
INTELLECTUAL LEVEL: post September, 2001, depression: these books rang true: Tibetan Book of Living and Dying, Pema Chodron, Chogyam Trungpa, Thich Nhat Hanh . Randomly met actor, Rob, who recommended dhamma.org
PHYSICAL PRACTICE LEVEL: After applying for 3 courses and not being able to go, finally,
January, 2004: 10 day silent vipassana course: http://www.dhamma.org.
Doing Time, Doing Vipassana; Changing from Inside (info/order), (video clip).
No hokus pokus, just experiencing the truth of existence at the quantum physics level of mind/body by observing breath and sensations and our reactions of craving and aversion. Hard work, and slightly scary, but so worth the 11 days it takes. You gain much insight about life and what's important in our short time here. If more people did vipassana meditation, there would be less war, less violence, less hatred, more compassion for all, more joy. There are centers all over the world, and in the U.S. in Massachusetts, Illinois, California, Texas, Seattle, and in Quebec, Ontario, Vancouver, etc etc. There is no charge for the courses, food, or accommodations, and all the people serving the food and assistant teaching are volunteers. It's pure dharma, pure dhamma. I should mention by the way that this has nothing to do with religion. People of all religious backgrounds do this. It's only sitting and paying attention to breath and sensations with training, purpose and insight.

Clark leads us in a brief clark-style meditation technique. May all beings be happy, peaceful and liberated.

Have a great weekend!

Comments:
Interesting video ... might want to practice the staiway to heaven thing ... I have actually been practicing vipassana for about 5 years and familiar with a lot fo the stuff you mention. I even read Dharma Bums about the time you did (and found later that Buddhism did not actually require heavy drinking) ... I'm wondering if meditation and video blogging are somehow related?
Post a Comment
Links to this post:
<< Home