ZipZapZop.com 062905: Blogs, vlogs, and Blobs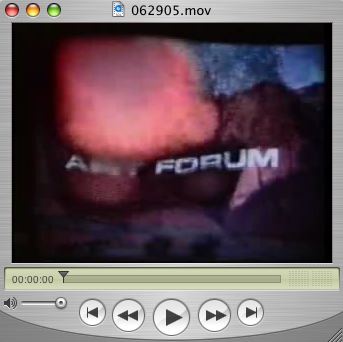 watch this episode
ZipZapZop Daily: Tips, News and Entertainment for the Brave New World.
Hosted by Clark Saturn, recorded (mostly) live in New York City.

ZipZapZop 062905 Topics:
Aggregators: 49Media (podcast on ZipZapZop!), Mediatuner.com (zipzapzop mention), MeFeedia.com, FireAnt not TV,

Friends blogs: ManufacturedEnvironments, 917Press, Polenblog, Tront,

a few vloggers: DailyDancer, Steve Garfield, Chuck's Secret Vlog Injection, Richardshow.com, Nordark, Ryanne, Momentsshowing, Karmagrrrl, Chris Koehn, The voiz, Johnny goldstein, Josh Leo, DLTQ, Ian's 05 Project, Michel Verdi, Lauren Verdi, Hello?, Senator John Edwards, Eric Rice, Mmeiser, Missing Kitten TV, Bullemhead, This is vlog (shannon), Schlomo, Ed's Big Time TV, Scott Walker

This list is naturally only a partial sampling of the hundreds of awesome stuff out there, and many of these are people who have shown ZipZapZop and myself much support. Thanks! This is only a start, hopefully I'll put more up each week and make this a regular practice since I decided not to have a list on the sidebar...

Video today is from some stuff I did with videomixing and film scratching back in the 90s. And from my relative's garden in Bryne, Norway and the beach at Sola.
Music: Boards of Canada "telephasic workshop"
Tao Te Ching #25

Comments:
this is a relief, in that I thought you had suddenly transcenced or transported or something and we wouldn't see you gain, since you missed some days ... so, glad to see you back ... this was different, but cool, and especially cool since you included me (though, as a good buddhist I realize, of course, I don't exist) ... nevertheless this mind thought it was really cool you mentioned its illusion of self ... keep up the good work! ...
Post a Comment
Links to this post:
<< Home