ZipZapZop.com 071405: Self Check Tom Cruise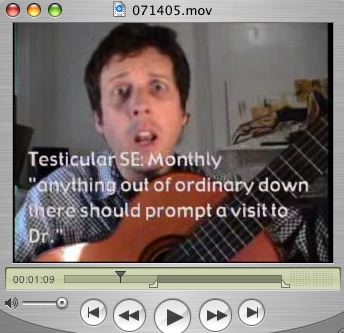 watch this episode
ZipZapZop Daily: Tips, News and Entertainment for the Brave New World.
Hosted by Clark Saturn, recorded (mostly) live in New York City.

ZipZapZop 071405 Topics:
Breast Self-exams: Do it!

Testicular self-exams: do it!
Awkward Phone interview with Tom Cruise


Tao Te Ching #30... cutoff due to inability to read.

Note: the general Tom Cruise concept and sound files were stolen, and clarkified, from friend, colleague, and extremely funny man, Andrew Hubschmann. Catch his show at the People's Improv Theater this Sunday at 9:30 p.m.

Comments:
Hi, Clark -- that's really helpful. I did the testicular exam, and I think it came out negative. But I'm left wondering: did I do it correctly? That website isn't very clear, and I was hoping you'd do a demonstration, which would lay my fears to rest. Thanks for your attention. Keep up the good Arbeit, Herr Saturn.
Post a Comment
Links to this post:
<< Home