ZipZapZop.com 071805: Übel Knübels Welt #1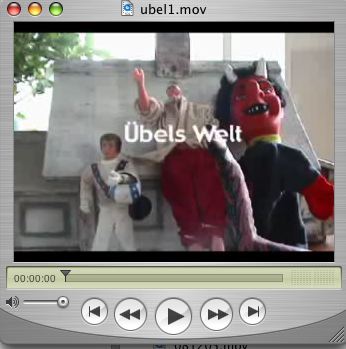 watch this episode
ZipZapZop Daily: Tips, News and Entertainment for the Brave New World.
Hosted by Clark Saturn, recorded (mostly) live in New York City.

ZipZapZop 071805 Topics:
Guten Tag!


Last week you may or may not have noticed that Übel Knübel was the Vlogger of the Week at WeAreTheMedia.com, so I thought I'd give you the whole, real Übel Knübel vlogfiles.

This is episode 1 of a series of ghetto improvised videos I made for the high school German 2 Tele Deutsch online class I teach. There has been some interest in them, and I actually wanted to encode them in Quicktime since I only had them in RealPlayer before, so I'm using this as a simultaneous opp. to share them with ZipZapZoppers and to prepare for the upcoming schoolyear.

Translation for this episode is here and keep in mind it was improvised for high school students. :) Oh, and all the music is from Socks and Sandals, NYC!

Comments:
I think you are hilarious. Mulit-talented, teacher, musician, comdian and generally funny guy. Anything you can't do damn you?
I might even try to locate some cheese curds in my home town in Sussex, UK though I doubt they even heard of them here.
Just letting you know: If I click on a day from the archives(As I was eager to see all the posts I have missed) it loads a page where there are many video posts and the all try to autoplay at once causing quite a messy situation. Any chance of stopping the autoplaying? In the end, even with my 2MBIT(!!) dsl it took ages to load up...used all the resources I think.
Anyway Long Live Mr bad weatherman saturn from New York!
Post a Comment
Links to this post:
<< Home