ZipZapZop.com 072005: Übel Knübels Welt #3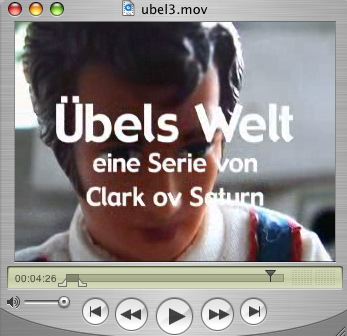 watch this episode
ZipZapZop Daily: Tips, News and Entertainment for the Brave New World.
Hosted by Clark Saturn, recorded (mostly) live in New York City.

Today's ZipZapZop.com topics:
Click the movie or here to see the translation in German and English.


This week we are featuring guest Vlogger, Übel Knübel, who helps me teach high school German for my online Tele Deutsch class. The videos are a bit long and large for standard vlogs, but I had to encode for the schoolyear and decided to share them here.

As you may know, "riding" is very important to Übel Knübel. Today he continues to whine about wanting to ride Langhals more, even though he nearly broke his back just yesterday. Naturally, he pits he parents against one another. Music is from Socks and Sandals, NYC.

Clark will return live for Naked Friday!

ZipZapZop.com PayPal Tip Jar (thanks for your support!)