ZipZapZop.com 072505:Books, Tea, Vlogme05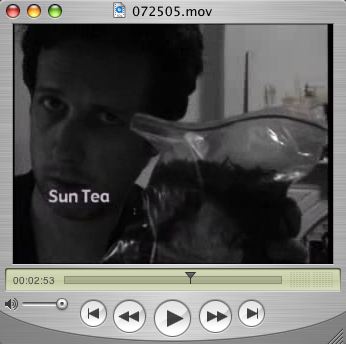 watch this episode
ZipZapZop Daily: Tips, News and Entertainment for the Brave New World.
Hosted by Clark Saturn, recorded (mostly) live in New York City.


Today's ZipZapZop.com topics:

Vlogme 05: my take on Dogme 95 for vlogs. Please note that this is only a portal for vlogs of a certain nature, not a set of rules for vlogging! I encourage anyone and everyone to vlog in whatever way they wish, but for those videos of a certain raw nature, they should be posted on Vlogme05!

3 Books you Must Read: Tao of Pooh, Te of Piglet by Benjamin Hoff, Crude: The Story of Oil by Sonia Shah.

Making Sun Tea. A surprising number of people I've told about making sun tea had never heard of it. Weird. By the way, I generally put in about 1/4 cup of loose white tea per quart or so.

Coming up tomorrow: Übel Knübels Welt episode 5. Learn German the ridiculous way.

Comments:
The thing with vlogme05 is that people were disturbed by all the rules ... my problem, was that I don't think there were enough rules and, in fact, I'm going to add a bunch of my own and then make a video to fit that ... you the man! ... (I really liked the remix of afternoon delight by the way)
Post a Comment
Links to this post:
<< Home